Customer service sense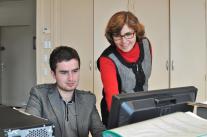 With the reliability of a small company and the insurance of a group, DEJOIE company guarantees the simple relationship with a single contact person for your aluminium casting parts (finished parts or mounted subunits), plastic seals or metal grip rings.
We listen to your expectations and we are your support in the definition of your needs, according to your requested level of performance with the related services, and to your requested delivery methods.
In order to enhance quality and reactivity, we set up buffer stocks, that way we can ensure short delays.